In 2001
Jarad Astin
and
Ben Senterfit
came together as two seasoned musicians who shared a common goal of setting a new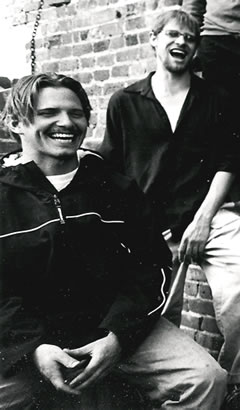 standard in the music industry. As an artist run label their goal has been to integrate a mutual love of music with the deep collective of musicians they have developed through years of performing and recording. Astin and Senterfit have developed two sides of the company, a manufacturing wing and a more traditional record label releasing over fifteen recordings since 2001. Through years of touring and recording, Jarad and Ben have developed a collective of musicians, studio engineers, and industry connections in Colorado and the New York region. They built this website to market, promote, and sell the music they created from beginning to end.
News
In March of this year, Jarad relocated to Brooklyn NY to expand CueZone's community and begin developing artists and expanding the market. He quickly set up a weekly CueZone Soul session at
The Five Spot
in Brooklyn and has begun an outreach campaign to develop new artists and provide duplication and printing services in the region. Ben has continued to hold down the Colorado region, playing consistently and continuing to provide services to musicians in the area. This fall CueZone will release four new sides including an acoustic releae from artist
Jubal
Thompson, a new Souul Wave release and a must have
CueZone Collective
project called The Dirty Boogaloo.
CueZone Records is distributed through
Synergy Distribution
and promoted by our friends at
Ariel Publicity
.